BoR has written the soundtrack for the film "Nothing Generation" AKA "Vampire Club" from well-known German Director Ulli Lommel.
Release of the film, last retitled as "Bloodsuckers", was in Germany. However, it is a difficult film to find!
---
previous reviews...
REVIEW FROM FANTAFEST: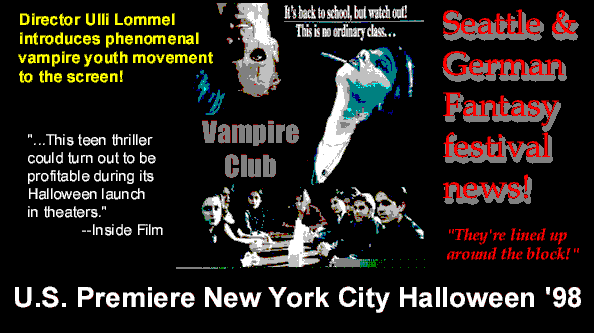 Ulli Lommel was once a celebrated star in Germany (LOVE IS COLDER THAN DEATH) and for twenty years an untiring director of independent B-pictures in Los Angeles. The laws of Hollywood and the mainstream is not his world. He loves it trashy, rough, irreverent. And ["Vampire Club"] is his latest, beautifully made opus. Its subject is the instruction of Hollywood children at a special school, and the director plays the school's headmaster, an obervampirlehrer [over-vampire]. He instructs a carefree teenage girl (Michelle Bonfils) who is afraid of death. In a
extravagant vampire club, we encounter lonely kids on a search for love. Ultimately, the girl wins completely undreamt-of power over
life and death, in this romantic fantasy-ballad.
"...Kudos go to Blood of Roses for an eerie soundtrack."
---
Email Blood of Roses:

---