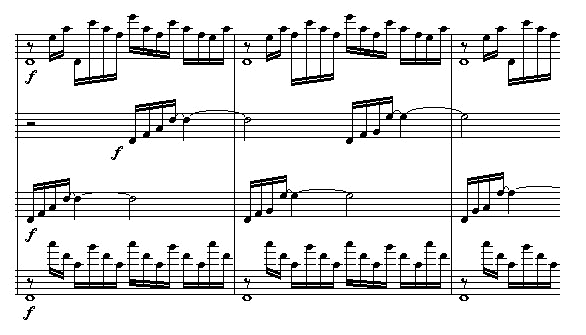 Composer James Henriques has been amassing quite a portfolio since moving to Los Angeles. From scoring films ("Missing Children" and "Venice Beach") and theatre ("Coyote" and "Cyberpunk Opera") to writing for string groups, woodwind octets, and, most recently, the highly successful quartets "Travels", "Home at Four", "Octet Rule", and "Affinities", as performed and recorded by The New Renaissance Guitar Society, this award-winning composer has much more to give the music world.
Those who enjoy minimalism will want to add this piece to their reportoire. The music is substantial enough to attract the professional performer, but is also playable at the student level. It is a good piece to introduce student ensembles to this rather popular trend in classical music. ...Soundboard
Mr. Henriques is currently working on a concerto grosso for expanded guitar orchestra, and is writing a modern opera "Fanticide: The Wholesale Destruction of Dreams".(The Guitar Quartets collectively called Four for Four, Por Favor, are available through Editions Doberman Yppan, Quebec.)
"..[James is] a very talented artist...[with] an impressive demo and a great list of credits..."
The reviews are in for "Cyberpunk Opera", a "Futuristic Play Remembers a Past Where the Future Was Still Up For Grabs". John Barry says in CITYPAPERONLINE: "...a fascinating score by James Henriques..." One of the Ten Best Stage Productions of 2006. Full review link here.

click here for a .MP3 file sample of "Home At Four"
click here for an MP3 montage of James' work
click here for an MP3 of James' arrangement of "Morning Prayer" by P. Tschaikowsky

---